The TKO is by far the gnarliest "hard" enduro in the USA every year. Ben Kelley headed south to Sequatchie, TN to take on the legendary course and see how he stacked up to some of the top endurocross and hard enduro riders in the world.
Ben had to run two knockout rounds on Saturday to qualify for the big event on Sunday. Ben started on row 20 and passed a lot of riders to take the first qualifier race win. Then backed that up by also taking the second qualifier race for an overall first place qualifier finish with a 3 minute win margin.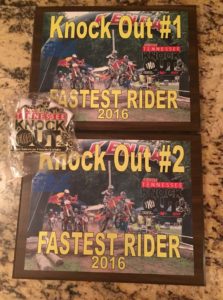 Day 2 is when it gets really tough and the constant rain didn't do anything but make everything that much more slippery.  Ben started day 2 off by placing 8th overall in the "hot lap" race that determines start order for the first knock out round.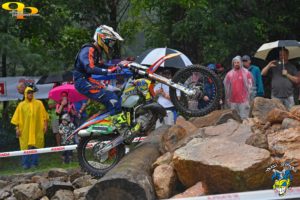 The first knockout race started to really distinguish the top riders in this crazy hilly rocky terrain.  Ben again demonstrated his rock warrior skills and placed 3rd!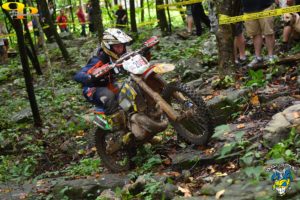 The second knock out race placed the remaining 25 contestants into 5 rows of 5 riders.  The top 3 from each row would go through to the final. Ben crashed on a hill and spent 45 minutrs trying to get up. He finally made it when Cory Buttrick and Stu Baylor helped him. Classy move by those two.  Ben finished 3rd from his row and so goes on to the final.  He told us he was exhausted from getting stuck on that hill and was only going to "cruise" the final.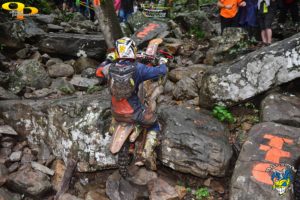 For the final knockout the remaining 13 riders lined up in 3 rows with a dead engine start. Ben was on row 3 and fought through the carnage to be just off the podium at 4th overall. Quite a learning experience and in Ben's own words … the hardest thing he has ever done. He also said he can't wait for next year 🙂