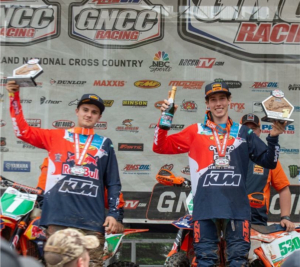 Our visit to the mountain for this year's GNCC round 9 was true to form as nicknamed "America's Toughest Race." Fog, rain, mud, roots and the challenging hills of West Virginia made for a great day of off road racing.
Ben Kelley started on row 2 for the exciting and unique live engine start modeled after the famous Blackwater 100 cross country event. Ben got off the line well and settled in with the top 15 riders overall as the track took them from high to low and back again on the Snowshoe mountain slopes, forests and fire roads. On lap two Ben, and his KTM mounted teammate Josh Toth, began to distance themselves from the other XC2 riders but continued to battle for the top class position as they moved up in the overall standings. On lap four Ben took over the lead and pushed hard to try to make the overall podium. At the checkers Ben took the XC2 win and landed 4th overall at the 12th annual Snowshoe GNCC.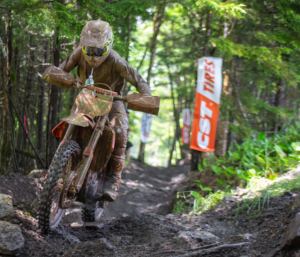 Chris Bach returned to GNCC racing on a FMF equipped KTM 125 SX in the XC3 125 ProAm class. Chris had a great ride going running in the top three for the first six laps until a mechanical issue ended his run for the day. Chris had a lot of fun lining up in XC3 and I'm sure we will see him back again this year at a future round.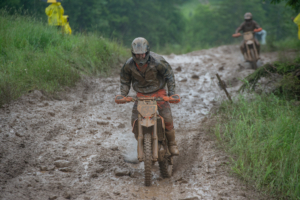 In the 250 A class Simon Johnson got a great start off the line and came around in third place after lap 1 and continued to push until taking over the lead on lap 3. Simon lead for the next four laps gapping second place by more than two minutes on the rough and slippery mountain course. On the last lap a fall on a steep uphill damaged Simon's bike and required him to turn around and go back down the slope before restarting his race. The unfortunate crash broke his clutch lever and he had also surrendered the lead. Simon drove hard but came up 2 seconds short at the checkers but took a well earned 2nd place in class and 32nd overall for the day.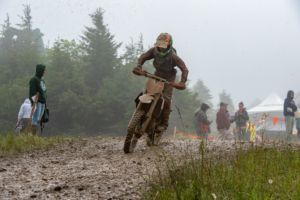 Owen Giese had his ups and downs at Snowshoe Mountain struggling at first and coming around in ninth place the first lap. But Owen kept charging and picking off riders until he took over 3rd place in class on lap five. From there Owen went on to score his first ever GNCC 250 A podium (3rd place) and 39th overall.