Copake Lake, New York (June 18, 2018) – Trail Jesters KTM Racing is very pleased to announce today that Chris Bach has joined the team for the remainder of 2018. Bach will race a 2018 KTM 125 SX in select Grand National Cross Country XC3 125 ProAm and AMA Pro Motocross 125cc All Star events.
Chris hails from Crown Point, Indiana and was a long time professional offroad racer riding for both Honda and KTM before retiring from full time racing in 2017. Chris is now doing R&D work for KTM, in the commercial real estate business and riding for fun when he can. Chris had many successes throughout his professional career including multiple XC1 podiums at Snowshoe, WV. So it is quite fitting that Chris announce his return to the sport he loves and that he will ride select GNCC events in the XC3 125 ProAm class beginning at the upcoming Snowshoe GNCC on June 20.
"I'm elated to do some summer time racing with the Trail Jesters crew this year. I've been having more fun than ever riding my dirt bike after officially retiring from XC1 and full-time racing in 2017, which is really what sparked this whole idea. To be able to partner up with the Trail Jesters team at these events on a 125 is really icing on the cake. Ross and the whole crew have a passion for racing that I think is easily lost by many and I'm so fortunate and humbled to go racing and burn some premix with such a great group." said Chris Bach "And I never raced XC2, let alone a 125, so I'm excited to experience GNCC racing in a new light on the small bore offering from KTM."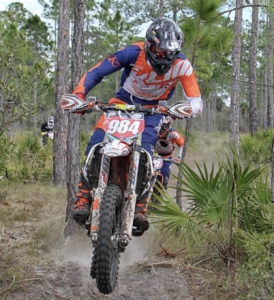 Also of note and very fitting to this next phase of racing for Chris is that he will run the number 133 on his bike in honor of the late Dale Cooke.
"Two stroke fever has swept the nation and we couldn't help but get caught up in the excitement and resurgence of racing these popular machines. After talking to Chris it was an easy decision to broaden our focus and support a great rider that wanted to get back into the sport he loves." said Ross Mauri, the founder of Trail Jesters.
Thank you to KTM, FMF Racing, Motorex, and Edelmann's Sales in Troy, NY for their continued support.